How many times have you looked up a topic online but didn't find an answer?
Sometimes, you even find more questions related to your question as a search result.
That's when many people asking questions about the same topic helps you with your search. And that's exactly how FAQ, or frequently asked questions, work.
Thanks to TeckYou professional analysis efforts, website owners, site visitors, and online audiences can now tune into why an FAQ page is needed on any type of site. But first, let's discuss what's an FAQ page, and how to build one.
What Is An FAQ Page?
The FAQ page is considered the knowledge key on most subjects for online consumers. FAQ answers common consumer questions picked up by search engines, like Google, business sites that are related to the desired subject of question. Some sites even have FAQ pages under different names like general questions, common questions, and most asked questions.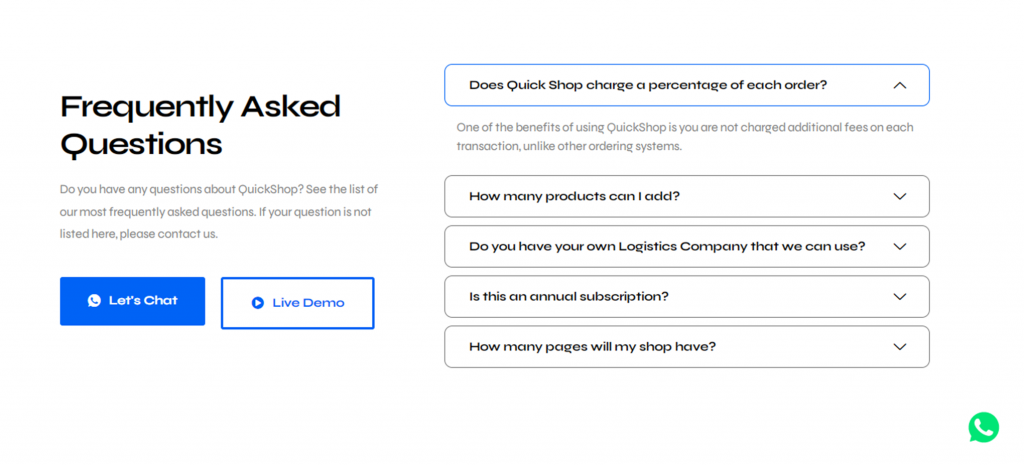 FAQ pages can also come in the form of full articles and blogs, like " What's the hype around the BeReal app?" answer is answered in one of our blogs talking about " The Hype Around: 5 Things You Need To Know".
Good FAQ pages are the ones easy to find, having clear concise responses, guiding users directly to the target content, offering multiple solutions for an issue, and using tangible data to pick the right frequent questions.
How To Build An FAQ Page?
Developing and building an FAQ page catered specifically to your business is relatively simple, all you have to do is to follow these steps:
Use service data like chatbots to pinpoint most common questions asked related to your niche.
Organize the FAQ page in forms of categories like products or services.
Add a live answering support option next to the FAQ page.
Design the FAQ page according to your business aesthetic preferences.
Include a search bar and link top questions.
Publish the FAQ page on your website, and make sure it's optimized with the correct keywords.
Observe the FAQ page performance.
Edit and update the FAQ content with time according to the end data of its performance.
Why Do You Need To Add An FAQ Page?
Although some websites hesitate or even debate whether or not to add an FAQ page to their website, we are going to list 5 reasons why you need an FAQ page on your website.
1. Help Users Navigate Your Site
Site menus are the first place for visitors to navigate easily through your website. But did you know that your FAQ page serves the same purpose? Well in fact, FAQ pages are so diverse that it will take your visitor to wherever they wish to go from product page, customer service, blogs, articles, and different sections all tracing back to your website.
Nevertheless, it's going to shed light on some other interesting elements in the eyes of the viewers. For example, a customer browsing a kitchenware website for some pots can be drawn into the sales questions, and place another order when they end up on the sales product page.
2. Boost Your Organic Research
The questions on your FAQ page don't specifically have to be limited to include information about your business and nothing else. You can take this opportunity to act as the directory of your niche or industries, even your competitors.
Providing answers to general questions in your field would redirect the search engines traffic towards your answers, thus increasing your visibility. This boosts your organic research, since it entices users to click on further into your site to find their target content.
3. Rank As A Featured Snippet
For certain web searches, Google highlights content that provides a direct answer to the search query in a form of Featured Snippet or People also ask. It's a text box that appears at the top of organic search results and you can totally optimize your content for it.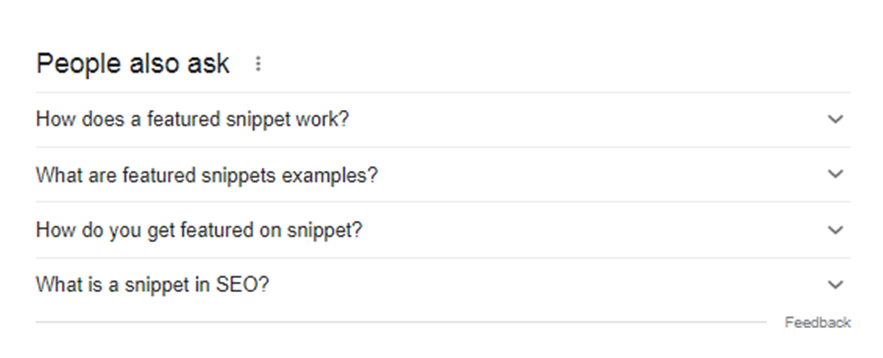 Google actually reveals that clicks on Featured Snippets tend to be much higher than on other search results on the page. So, your FAQ appearing in a Featured Snippet can significantly increase traffic to your website.
4. Revamp Your Content Ideas
You could also consider the FAQ page as a starter place to capture search queries, especially the catchy ones in essence and more natural and conversational in style. Once captured, these queries are your readily-made content inspo. When a full question might not fit into your website content, your FAQ page is always a perfect place for it.
Because your content aims to provide value to your audience in the first place either by fixing problems, answering questions, or filling gaps, placing it inside one repository FAQ page promotes its worth.
5. Improve Your Customer Experience
Another worthy, yet implicit addition of your FAQ page is showing your customers that you care. Your FAQ content and design reflect how invested you are in helping every website visitor find solutions. In the long term, this one-time pleasant customer experience will also build a sense of trust for your business.
Visitors who trust your brand are more confident about purchasing your products or even collaborating with you. It's when you provide honest, comprehensive answers to common questions that you demonstrate thought leadership and authority within your industry.
In this blog, we zoomed our lens on one unique website feature that often gets forgotten or ignored. While it's undeniable that a holistic website design makes or breaks your business' online presence, taking care of particular features and options is always a plus on your way to online success.
Never hesitate to contact TeckYou web developers if you're rethinking your website's design or striving for an upgraded UI/UX. But, if you're radically struggling with your business site you might want to start by checking out top 5 challenges for startups struggling with their websites.