You can't be looking up news, blogs, or articles in 2022 without spotting all the SEO schemes sneakily integrating throughout your feed. To all the SEO curious heads and experts out there, we are here to demystify what tricks the geniuses of SEO use, and what you should use to rank high too.
So, follow along this blog to dive into SEO tools, best practices, and the unique Rank Math plugin you can't miss.
What are SEO Tools For?
SEO tools are specifically developed programs that assist in optimizing content online for SEO ( Search Engine Optimization), aka up to Google's standards. The idea behind using these tools is to define the content browsing the internet, mainly through their headlines. The purpose is to get each title, headings, and other cues to identify and categorize the information for the users.
Google's aim for setting these standards is to place each of your content into its relevant category on search results. The elements that come when optimizing your subject content involve keywords, headings, backlinks, tags, images, and meta descriptions.
Using an SEO tool before publishing any type of searchable material is a routine process for every piece of content nowadays. It's an important operation to help pages rank high, how do you ask? Well, when optimization is done the correct way, it makes a significant difference in your blogs or website search opportunity.
For example, a retail store blog with a headline of " New Summer Collection" will not travel anywhere to their audience. But, after a proper optimization, the title should read more like this " Best New Fashion Trends For 2023 Summer", the blog will for sure reach more users, and land smoothly on fashion lovers' pages.
What is Rank math?
Rank Math is a Search Engine Optimization plugin for WordPress used for websites and blogs. It's an SEO tool with built-in suggestions, based on a variety of content optimization practices. Rank math provides easy customization for SEO settings, making pages indexable, and the ability to envision how websites appear in search outcomes with the final structured data.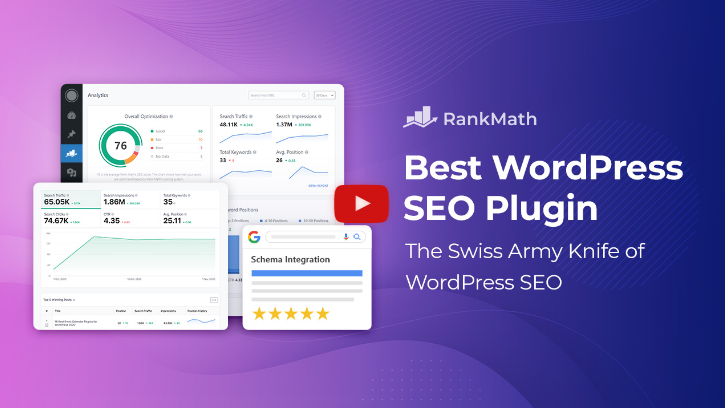 How To Download Rank Math?
As tough as downloading an SEO plugin sounds like, Rank Math is relatively easy to install. WordPress kept it simple and smooth for its users, the open-source software put up a step-by-step setup wizard. Also, the setup is very forgiving! If you make mistakes along the way of the installation process, you can always change the plugin settings later on.
There are multiple options to install it on WordPress:
1- Upload it through an admin panel.; There are 2 ways for installing it through the admin panel, either from the WordPress repository or you manually uploaded plugin files.
2- Upload it through the server using FTP.
3- Directly downloaded onto the service using SSH.
It's good to also know that Rank Math is free to download. However, not all accessibility characteristics are the same. The features and benefits differ between free, pro, business, and agency.
Why You Need To Rank Math To Rank High In 2022?
With the fast-growing competition between websites of the same niches attempting to rank high on search results, and the intense race to reach the target audience pages first, the pressure rises for getting SEO operation on its best game.
We tested here at TeckYou a variety of SEO tools, and finding the best clean-cut tool took us multiple trials. But finally, we landed on the best-suited one that our blogs found the most success in, the tool is convenient for seasoned professionals or SEO beginners. Let's jump right into it, and explain why you need Rank Math to rank high in 2022.
Earlier, we briefly touched on how it's important to optimize your content in 2022, for the obvious reasons of improving your search results. So, your SEO plugin must be more precise, meet most websites' main goals, and be knowledgeable of all SEO elements down to the last detail. That's why we found Rank Math to be one of the tops in its field!
Rank Math features cover all the points you need for better optimization in blogs or your website content. Here are all the primary checkpoint features that will earn you these organic ratings:
Edit and Change Snippets like meta descriptions and meta titles. Most SEO tools come with editing your meta description option. But, because first impression matters to your reader's choice in clicking on your piece, Rank Math optimizes your meta description to ensure that your valuable content is well represented in the snippet.
Title and Content Readability Index. Even before your snippet, it's your title that either catches the eyes of users or loses them in the first few seconds. Rank Math estimates the readability index, suggests using SEO power words for the title, and calculates your keyword density throughout the content.
Insert up to 5 Keywords. When it gets to keywords, they are the words that define and separate your content from other irrelevant search results. Rank Math can analyze your keywords' compatibility with your content, blog length, title, meta description, and URL.
Keywords Rank Tracker. Because it's not enough to just make sure that your keyword is appropriately there in your content, you have to make sure to track the ranking of the keyword itself. After all, your information isn't going to rank high if the used keywords are not on top of the search charts at the moment.
Internal and External links suggestions. Utilizing links in your content is one of the best ways to rank high. Since good external links attract new visitors, and internal links draw great traffic to your other content, we suggest including them in all of your published content.
Images Suggestions. Rank Math encourages you to use applicable images to the material, and use a cover image with your keyword in the alt text so your blog can pop up when people type it in. This reminder is highly favored, as visuals are known to be one of the efficient factors to charm your audience.
The list of reliable features doesn't end there for Rank Math. Nonetheless, our professional TeckYou SEO experts laid down all the practical features to demand higher rankings for your pages in 2022. If you enjoyed this list that helps you rank top charts, then check out how you can grow your customers using 5 local SEO tricks.

Contact TeckYou and get help from skillful content writers to receive ready-to-go published content, all perfectly tailored to each of your platforms' purposes and requests. We handle your project's topic research, meet your deadlines, and care to reflect your brand's identity.