The ecommerce industry is on the rise steeper than ever with more than 5.424 trillion dollars of expected worldwide online sales in 2022. Little you can imagine how fierce the world's ecommerce competition is while you're still trying to build your online presence, simply stand out from the crowd, and eventually monetize your business.
To help you figure it all out, TeckYou experts compiled your whole ecommerce website development process in 10 inclusive steps from the business and technical aspects to the functionality, design, and payments. So, pay close attention to launch the top-notch user-friendly ecommerce website that offers your customers the experience they need in no time!
1.Set Your Business Goals For Your Ecommerce Website
You've already made the decision to sell online, and that's a big one. Your very first following step would be deciding on your business goals to set your website's plan before you set it to the public. To get there, start by answering the following 5 questions.
Ask yourself what will your business sell, what makes your ecommerce unique, what gaps will you fill in the market, who are you catering to, who is your customer persona, when will you launch the project, when will you reach your first target sales volume, why would you want to go there, and how will you achieve the whole thing…
Each one of your answers will definitely guide the website development process.
2.Anticipate Your Website's Shopping Experience
Diving into concrete website expectations, anticipate how your ecommerce website will function, accept payments, behave in response to user action, and appear aesthetically in line with your brand identity. There's no web developer out there who understands your business and your products better than you, so, it's up to you to determine what website would realize your online shopping vision.
Think of your various products, how you would filter them, look for them, or just click on them. Structure your customer journey in mind before diving into any ecommerce website template. When asked about the kind of online shopping experience you want to give your customers, your answer should be the unique journey kind, the one with optimal features and custom designs.
3.Choose Your Ecommerce Website Type
Things are getting slightly more interesting one step at a time. Now that you have your website all ready in mind, there's one more decision pending before you hit the development stage. This step is choosing the best website type to build your ecommerce store. Your website type options are most likely to be an open source website or a software as a service, SaaS.
First time encountering these types?
Here's your recap.
An open source website is the one built from scratch in which you can modify all aspects of the coding with no customization limits at all. Keep in mind that building your open source ecommerce website will keep your business, or IT team specifically, in charge of PCI compliance, hosting, security, patches, and updates.
SaaS is, instead, a cloud service that hosts your website for a subscription base. Rather than building your ecommerce website, you would be renting a readily-made website template, domain name, hosting, security, and basically all technical details.
See, each website type has its limitations. If your resources and expertise are tied for this decision, collaborating with the right web developer will make the choice easier.
4.Collaborate With The Right Web Developer
At this stage, you would be looking for a full stack web developer who masters both the skills and trends of ecommerce. Thus, your main criteria should look for expertise, stacks, skills, style, and best practices that align with your ecommerce web design needs. Evaluate the expected development workflow as well to ensure providing a seamless user experience on your website, engaging with your customer base, boosting your conversion rates, and reaching every sales target.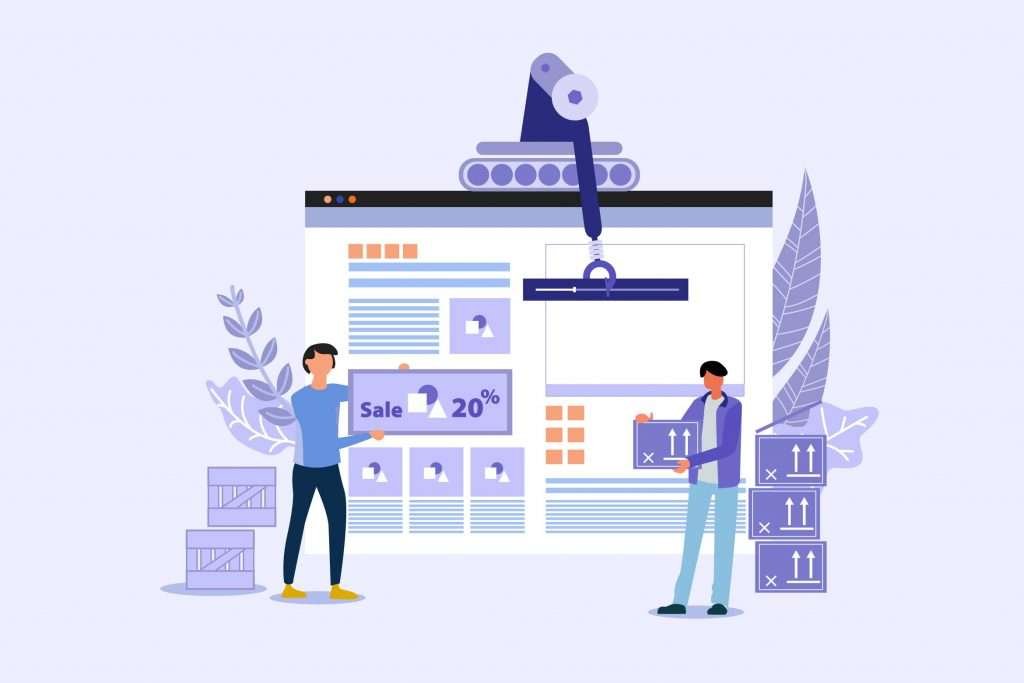 According to survey results from PWC, 73% of U.S. consumers say customer experience is an important factor when purchasing online, so, don't be afraid to raise the bar when it comes to a delightfully designed frontend and perfectly crafted backend.
5.Craft Your Ecommerce Website's Content
Along with expert web developers, your ecommerce website needs its customized written and visual content, and therefore designers and content writers. That's why collaborating with a web development company, like TeckYou, would be your best one-stop option to craft the whole website at once.
The top elements to consider when developing your ecommerce website include visual designs, product images, product descriptions, simplified navigation menu, search engine optimization, and content management system integration, or CMS for short.
6.Add Your Website Products
All previous steps brought us to this one, adding your products and organizing your inventory to sell. Opt for an inventory management system that's easy to add and edit product listings and syncs across all of your sales channels. Remember that when adding products, you still need to ensure the highest quality product images and descriptions to give your customers the authenticity and consistent branding voice they're expecting to purchase from you.
To avoid any complexity, go for detailed product descriptions, particularly for variant products, to spot the light on pertinent product information, product specs, sizing guide, color options, and much more.
7.Set Your Website's Terms & Policies
Because you're going for the best business practices, you can't miss your ecommerce website's terms and conditions and policies. These will act as a legal binding between you and your customers to avoid any sort of abuses, conflicts, mistrust, and copyrights violations.
Policies specifically guide the shopping checkout and shipping process. It's the legal statement that discloses the ways in which your ecommerce website collects, processes, stores, shares and protects user data as well as payment gateways and return possibilities.
8.Decide On The Final Website Features
Another user-centric step along your ecommerce website development is testing out and deciding on the user-friendly design features. These features should be added or omitted with the main purpose of finding a simple way around your ecommerce website's products and sections.
Prioritize your customer experience by creating fast loading product pages, straightforward navigation bar, easy drop-down menu, quick checkout, diverse payment options, chatbots, reviews section… oh, and mobile responsiveness and screen compatibility.
In today's marketplace, 56% of all online purchases in 2020 were made using mobile phones, implying an increasing preference for ecommerce consumers to rely on their mobile devices. So, just cater your ecommerce website's mobile optimization for them.
9.Launch Your Ecommerce Website
It's finally the time to move from stage to production and go live with your ecommerce website. First things first, ensure that every feature is functional and set in terms of ecommerce web design, performance, and navigation, then you're off to celebrate your website.
Your web developer would assist you on this one by reviewing a checklist of all landing pages, links, payment processing interactions, web core vitals, settings, coupons, and digital storefront displays.
10.Keep An Eye On The Website Analytics
Don't give up on this blog just yet because your real tenth and final step would be your regular checks, solutions, and maintaining processes. There's always a potential out there to rethink your ecommerce website and revamp your web design at some point in your business lifecycle.
So, you have no more excuses to delay your website's launch now that you're well aware of the bigger ecommerce website development picture. Start from your own business reflection and overcome every web development complexity one step at a time. TeckYou digital transformation experts, web developers, and content writers are just a message away from delivering your web request. Contact us now.