It's the future, and it's slowly taking over.
Ecommerce sales are gaining so much popularity among all age groups for their convenience, limitless options, faster response, cost reduction, and everywhere ads. Online shopping is, then, expected to account for 20.8% of retail sales worldwide reaching 6,310,000,000 dollars.
What we're trying to say through these numbers here is that ecommerce statistics should encourage you to start your online business. There's never been a better time to start an online shop or a digital store reposition than today, and now.
While it also implies an increased market competition, let's look at the positive side of things and dive into the 2023 ecommerce trends your business was waiting for.
1. More & More Personalization
After the far-fetched personalized shopping experiences we've enjoyed in the last couple of years, audiences will still expect a certain level of personalization. Whether you choose to personalize your marketing emails, messages, offers, and ads, or even your ecommerce site and payment options, you would be on your way to generate more sales.
Infinite tools would stay along your side, in 2023, to help you upgrade your ecommerce personalization from different aspects including social media insights and metrics, user data, website analytics, web design heat maps, and surveys. They're intended to improve both your service and the customer experience.
2. Go For Sustainable Ecommerce
It means opting to work with clean resources of energy, optimizing pages to spend less energy, resorting to less polluting delivery means, and obviously reducing packaging waste. That's how much consumers will be paying attention to sustainability in 2023.
Famous brands are riding the sustainability bandwagon and so should your ecommerce, depending on your location, goals, and target audience of course. For instance, the fabric industry is leading in this direction towards adopting sustainable fabric, virgin material, and plastic-free packaging.
So, if we combine the first and second trend, we get…
3. Customize Your Packaging
Packaging alone, without the product inside it, has the power to impact purchases by 70%. You can't take your business in 2023 if you still think that packaging is just a cardboard box. Because guess what? It's NOT.
Well, brown cardboard boxes are the greener option you should use, but aside from choosing the wrapping material, packages can be customized with a handwritten note, a touching message, a kind reminder, a sales announcement, or just a thank you card. You could go way more creative; it just has to reflect how much thought and care you put into each order.
4. Let Them Do The Selling: Chatbots
Chatbots interactions and their resulting retail spends are on an exponential increase predicted to reach $142 billion by the end of 2023. This volume was less than $3 billion in 2019. What happened was a parallel hype for both chatbots investments in websites and in the sophisticated technology that develops them.
Consumers got used to the luxury of 24/7 customer support and it would be an online shop drawback if you won't be available around the clock for them. If you're not ready for chatbots yet, try the frequently asked questions, FAQ, pages or sections, or maybe at least a clear disclaimer that you offer customer support during specific hours.
5. Leave Impressions With AI
Artificial intelligence, AI, is a magnificent trend on its own, but when it comes to ecommerce, AI tools can offer productivity advantages you would want to consider for the upcoming year. We already mentioned chatbots, so AI can assist in customer management, inventory management, and content creation.
You probably heard of or even used AI content generators. So, allow us to spill the tea and let you know that they're not just a present trend; they're the future of content writing, websites, and marketing. So, if you want to speed up your productivity, go for AI content creation.
6. Rethink Your Website's Data Protection
Old but gold. All technology advancements exist to take advantage of them, so you should. Data protection within your shop is essential for your visitors' trust and conversions. New generations of online shoppers are getting more media literate and they would be more likely to preserve personal information, even at the expense of buying unique products.
Moving forward, try to minimize the personal data you really need to obtain when creating accounts. Or, you know what, you don't have to force every visitor to create an account until they've reached the checkout page. You could also ask for their consent before adding their contact information to your email list.
7. Design For Mobile Shopping
87.5 million mobile users are forecasted to be active mobile shoppers. What does this mean for your ecommerce?
It means that most of your visitors and customers are probably using their phones when searching for your products or surfing your ecommerce website. So, the real question you should be asking instead is, what are you catering for your mobile shoppers?
For the upcoming year, rethink your web design to be mobile friendly, including larger links and buttons, readily accessible images, subtle pop-ups, and search filters.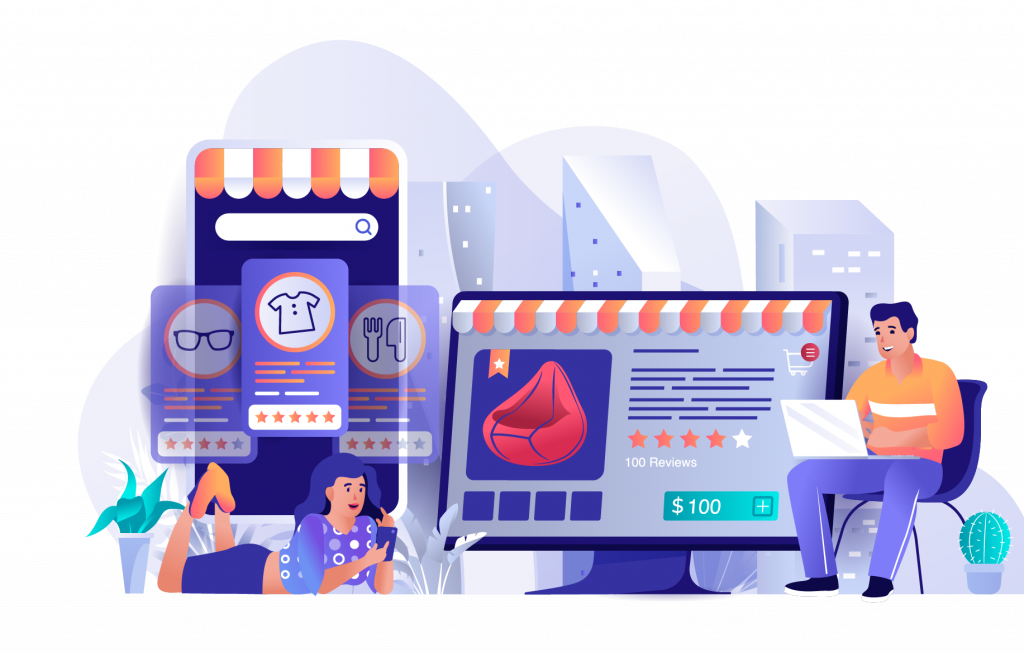 8. Embrace Augmented Reality Features
Once you optimize your shopping experience for mobiles, know that you're on the right track; and you could take it to the next level while you're there. That would be by embracing augmented reality, AR, and 3D looking content in your shop.
Shoppers engage with 3D images by almost 50% more than 2D product images, so just imagine how that engagement would look like when they can see themselves trying on the outfit or sitting on the piece of furniture they're eyeing for their room.
9. Activate Voice Search Option
According to The Future of Commerce and Customer Engagement, ecommerce sales using voice search will exceed $30 billion by the end of 2023. Here's a new trend to tap on if you wish to maximize your sales.
The new option will require some backend development tricks as well as content modification to include more conversational keywords and optimize searches for natural language processing and short vocal questions.
10. Take Advantage Of Multichannel Shopping
Multichannelling is usually a business strategy that expands the retail to different distribution channels to eventually sell more. This time, use it to boost your online shop's conversions. Your channels could be Facebook, Instagram, and TikTok shops, or in general, social media advertising.
Even if you haven't set up these channels, be assured that it's no hard task. You can set up your shop and get it running in no time. What you should focus on, instead, is building an impeccable strategy that ranks you in your niche and makes the most of social media users' eagerness to buy a special product when they see it.
So, to sum things up, consider each one of these 2023 trends as a winning investment for your ecommerce business. Statistics reassure that the hype around ecommerce retail after the COVID-19 will not fade out anytime next year.
On the contrary, ecommerce trends extend to influence marketing strategies too like influencer marketing, user generated content, and live shopping. But, these will be for another day. Stay tuned to get the latest digital trends from TeckYou experts before the new year!