Websites are forever expanding with over 2 billion websites available in the world today.
But, guess what…
Only a fifth of all of these websites are actually active and updated. This number drops even more when talking about websites that post regularly, keep their visitors engaged, and make the best out of the available AI tools.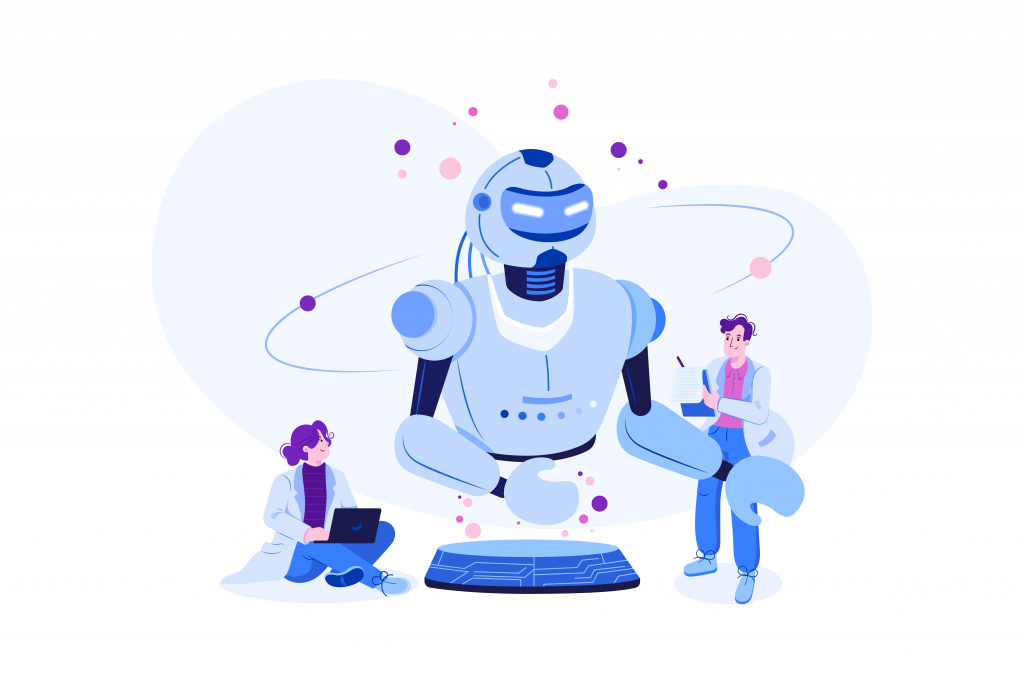 And let us tell you, today's AI tools are indeed powerful. AI plugins and features somehow made every webmaster and content editor's role much easier. While running a successful website remains a challenging, time-consuming, ever-changing task, we, at TeckYou, believe that it can be enjoyable from the first design phases and development, all the way to the regular content management.
So, our experts compiled the top artificial intelligence solutions that can be seamlessly integrated into any website or web application to give it this attractive, competitive edge. 
1. AI Tools Enhance Website Interactions
You created your website to reach visitors in the first place. You consequently designed it to be appealing to your audience with interesting elements and call to action. And, you wouldn't want this interest to fade away and reduce conversion potentials after late replies and ambiguous messaging systems. 
AI features can make this interaction process simpler, efficient, and effortless, removing communication barriers and enabling fast response. Exactly, just like chatbots, software applications equipped with artificial intelligence and designed to simulate conversations with human website visitors. 
2. AI Tools Improve Smart Search
Once again, AI can power search systems using machine learning, ML, or natural language processing, NLP. That's smart search. Visitors will then find information, addresses, or products really quick with a few clicks or possibly a voice search. And trust us on this one, if you're targeting younger audiences, you can't settle for traditional search options anymore. 
Smart or intelligent search is not only valuable for your website's customer experience and convenient navigation, it also collects your website's data to add to your knowledge about consumer behaviors on your site. When your visitors enter their search queries, it reveals what they're mostly looking for, what their purchase patterns are, and what could be unclear for them.
3. AI Tools Advance Customer Experience
Combining all that AI can provide leads to one destination, an enhanced customer experience through easy navigation, smart searches, and constructive interactions. Factoring in these AI tools help you design your website around the needs of your users to evaluate their mood, likes, and their preferences. 
Taken to another level, your website can personalize each customer's experience, strengthen their trust in what you offer, and boost their engagement. We're talking about target ads, featured offer recommendations, and custom prices. It's how big websites work, and it's how you ultimately should, especially if you're running an ecommerce website. 
4. AI Tools Assist Marketing Efforts
We just mentioned ads, but looking at the bigger picture, AI is expected to assist your whole marketing strategy and maximize your results. One special marketing opportunity lies within machine learning capable of generating accurate market predictions and analyzing consumer purchasing behavior.
Following the analysis, you could rely on AI to create marketing campaigns based on the services your customers prefer or products they're likely to buy next offering suitable price points. Your efforts to tailor to specific needs will surely improve the effectiveness of your marketing plans.
So, here are 4 enhancements paring your skills with artificial intelligence. This blog will further detail specific AI tools that can make or break your website!  
Proofreading
A prime factor that distinguishes between great and below average content is its writing. Back to the basics, grammar, style, syntax, and reader-friendliness matter for an online content. You could be tackling the most unique and interesting topic in your niche, but also lose readership if you fail to present it in a clear and understandable manner.
Typos, grammar mistakes, repetitions, and wordy sentences are even more dangerous because one sneaky mistake destroys your professional image, ruins your chances of success, and shakes your customers' trust in you. The same applies for unorganized content inside chunky paragraphs, leaving out headlines, and neglecting consistency in fonts and sizes.
Here's where content and grammar editing tools powered by AI save your website. Ensure that your blogs, CTAs, meta descriptions, and headlines are error-free by just scanning your content for any underlined mistakes or suggested ameliorations to match brand requirements, standard language styles, and guidelines. 
Besides spotting typos, you also get suggestions to keep your voice and organization the same throughout the whole website. AI plugins took one step further to analyze your words for detecting bias, misinformation, similarity and plagiarism and notify you that changes are required to produce flawless quality content. 
Upgraded Content
So, speaking of content, AI has the power to generate it all in production, not just fix it in post production phases. Once more, machine learning sets the bar high for your website standards. ML and AI tools are ready to write entire blogs in no time that sound human-like, present engaging tones, and reflect your unique research. 
Yes, it's your own research. While ML can produce data-driven results, such AI tools are still in their development phases, thus you might be asked to input an outline, review the style, link resources, use statistics, add your touch of expertise, and conclude your piece of content how you choose to do it.
Analytics
Post writing comes the analysis and review stage. Here as well, AI plugins can intervene to analyze your posts, product descriptions, comments, and all kinds of content and SEO on your website. Understanding your content's insights helps you forecast how your readers will react to it and where they'll encounter it in search engine results pages. 
Translating your website into the format that search engines require increases your content recommendations to your audience so that they can explore your topics and products in depth. Properly indexing your writings will also organically display you as a featured snippet. It's not impossible to rank without AI, but relying on AI will ensure you rank effortlessly every single time. 
AI powered plugins and tools are indispensable if you're aiming for a leading website in your industry, location, and whole online market. Relying on AI tools is like taking a shortcut for content management efficiency and productivity. If you're still asking why, our final answer would be it's because you'll meet your engagement, conversion, and business goals.
On a final note, AI tools can be integrated to all types of websites whether open source or software as a service, basic ecatalogs, or fully operational online stores. It gets even more convenient with our experts consultation to choose the best quality plugins and smoothly run all maintenance requirements. Contact TeckYou for a first free consultation!